591 - Resignation Regret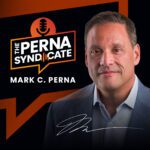 Episode: 591
Episode Title: Resignation Regret
69% of workers who quit during the Great Resignation would return to their previous employer. Here's why companies should meet them halfway, next on The Perna Syndicate.
Ep 591 show:
Welcome to a new week on The Perna Syndicate! I'm your host, Mark Perna, and today I want to talk about a new development in the Great Resignation: resignation regret.
A recent report by Workhuman found that a stunning 69% of workers who took a new job during the pandemic regret it. Not only that, but they would return to their previous employer if they could.
This cohort of workers is becoming known as "boomerang employees." And their numbers are growing. According to the job platform Conductor, search volume has exploded for phrases like "how to ask for your old job back," "rehiring former employees," "regretting quitting my job," and "boomerang hiring."
For an increasing number of people who switched jobs during the past few years, the grass didn't turn out to be greener on the other side. The resignation regret is real for them. So what are they, and their former employers, going to do about it?
The chance to rehire former employees represents a big opportunity for companies to compete in the War for Talent. Not to mention, there has to be a sense of satisfaction for employers to discover that their workplace compares favorably with that of a rival.
Employers shouldn't overlook this new talent pool—and regretful former employees shouldn't overlook the chance to come back if they can.
This week, we're going to talk about the boomerang trend and how former employees and employers can meet halfway. Tune in and we'll see you tomorrow on the next episode of The Perna Syndicate!
---
---
---