590 - Money and Priorities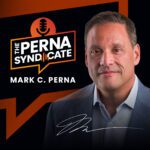 Episode: 590
Episode Title: Money and Priorities
A recession can highlight any pitfalls we have with money, which is why students should start forming smart financial habits now. More on that, next on The Perna Syndicate.
Ep 590 show:
Welcome to The Perna Syndicate! All week, we've been talking about the challenges facing young people if the economy goes south. It will be especially tough for new grads if they enter a workforce that simply doesn't have enough good jobs to go around.
But there are ways to recession-proof your career, as we've discussed in the past few shows. So you do all that: you choose a great field, you hone your professional skills, and you create a rocking resume. And you land the job. Congratulations! Now, what's the next step to recession-proof your life?
By definition, a recession is beyond any of our individual control. But we do have control of how we spend the money we make. As someone who didn't always do this, I urge you to make smart financial decisions.
Take the time now to build a whole new skill set in areas like budgeting, saving, investing, and basic money management. Maybe it doesn't sound appealing right off the bat, but it's really a matter of developing the priorities that are right for you.
Your money is a tool to help you craft the life you want to live. Don't let yourself get sidetracked or distracted with getting stuff in the here and now if it's going to compromise your long-term dreams.
The biggest piece of financial advice I can give a first-time employee is to save, prioritize, and learn everything you can about money so that you can make yours work for you.
Thanks for listening to The Perna Syndicate this week! I hope you've taken away some useful nuggets. I'm your host, Mark Perna, and we'll see you back here next week for more on The Perna Syndicate. Take care!
---
---
---