564 - Breaking Into the Trades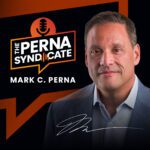 Episode: 564
Episode Title: Breaking Into the Trades 
How do you get started in the trades? A successful plumbing business owner shares his thoughts, coming up next on The Perna Syndicate.
Ep 564 show:
This is The Perna Syndicate—thanks for tuning in! I recently chatted with Terence Chan, a young plumbing business owner who has made his profession cool on social media platforms like TikTok. And he has some great advice for young people who want to break into a blue-collar career like his. 
First, he says, simply try it. Vocational programs offer an easy way to get your foot in the door with hands-on experience. Once you find the trade that's right for you, give it your all—there's no easy shortcuts. Lean into learning a new skill, do the hard work that's required, and emerge as a master at the craft.
Of course, there are also trades that have lower barriers to entry, such as lawn or pool care, and these can frequently be learned by doing. Often they need seasonal help, so consider a summer job with them to learn the ropes. 
Chan also believes it's good to try as many different roles in the industry as you can. He apprenticed in both residential and commercial plumbing roles, and also tried his hand at sales. All of these experiences were valuable to the business he eventually created.  
Finally, there are some skills that all employees should have—professional skills such as customer service, communication, punctuality, and critical thinking, to name a few. These are priceless—and the best part? They can be learned anywhere. 
Tomorrow: Why should blue-collar fields get a little more respect? And how can Gen Z help change the public perception of these trades? Let's talk about it on the next episode of The Perna Syndicate. See you next time!
---
---
---