563 - Gen Z's Blue-Collar Edge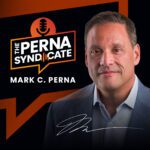 Episode: 563
Episode Title: Gen Z's Blue-Collar Edge
Gen Z business owners have a big advantage in the skilled trades, and it may not be what you expect. Let's talk about it, next on The Perna Syndicate.
Ep 563 show:
Welcome to The Perna Syndicate! Young people who pursue entrepreneurship in the trades or other blue-collar businesses have a big competitive advantage—they bring their love of technology and social media to fields where this tends to be uncommon. 
Many "old school" home service businesses rely on pen and paper to keep records, provide receipts, and just generally run their business. There's been no reason for them to change, as they have a loyal customer base that they serve well. 
But today that's changing. The level of service that homeowners expect is higher than ever and will only continue to grow. People want to communicate via texting. They want to schedule service online, have an electronic record of all service calls, and receive updates and quotes more quickly. 
In short, they want technology to reinvent the experience of home service, whether that be plumbing, HVAC, general contracting, or any other skilled trade. And that's where Gen Z's advantage comes in. 
These tech-savvy young people are finding ways to both upgrade the customer experience and tell a compelling story about their day-to-day work via social media. One young entrepreneur in the plumbing industry, Terence Chan, has gone viral on multiple occasions just by sharing what his day is like. 
The ability to use social media effectively is a tremendous advantage in today's digital age. And it's a natural fit for Gen Z.
Tomorrow: What advice is best for a young person looking to start a career in a blue-collar field? We'll cover that and more on the next episode of The Perna Syndicate. See you then!
---
---
---