561 - A New Day for Blue Collars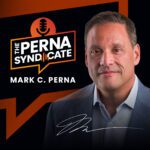 Episode: 561
Episode Title: A New Day for Blue Collars
Gen Z is rediscovering blue-collar professions—and all the benefits this type of hands-on work can bring. Here's why, coming up next on The Perna Syndicate.
Ep 561 show:
It's a new week on The Perna Syndicate—welcome! I'm your host, Mark Perna. The pandemic brought many of us home, sparking a new interest in home improvement projects. And even though the lockdowns are over, that interest has remained. 
According to Sam Pillar, CEO at Jobber, consumer demand in home service industries recovered faster than all other categories, and actually started growing faster than pre-pandemic levels by the end of 2020. That trend is continuing today.
To meet demand, the blue-collar world is reinventing itself—and Gen Z is here for it. Bringing their tech-savvy knowledge to traditionally low-tech trades, they're reframing the home service industry from the inside out. And why not?
Once you get past the outdated stereotypes of blue-collar work being somehow 'lesser' than white-collar careers, it's easy to see just how much the trades have going for them. 
Blue-collar trades like plumbing, construction, electricity, landscaping, cleaning, handiwork, and others can offer low barriers to entry. Apprentices in these fields earn while they learn—and rarely have to take on debt to finance their training. 
This is great news for Gen Z, who tend to be much more averse to debt than their Millennial counterparts. And it's not the only thing that's attractive about a blue-collar career. There's a lot of job security in this type of work—not to mention the deep satisfaction of helping people in a tangible way. 
This week, we're going to talk about why blue-collar professions are seeing a new day with Gen Z workers. See you tomorrow on the next episode of The Perna Syndicate!
---
---
---