554 - When to Walk Away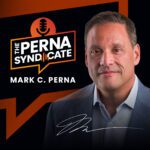 Episode: 554
Episode Title: When to Walk Away
Even if the salary offer is nice, it may still be smart to leave it on the table. Here are two reasons you may need to walk away, next on The Perna Syndicate.
Ep 554 show:
You are now in The Perna Syndicate—welcome! If you're taking your pick of job offers, it can be tempting to hold out for the highest bidder. But this strategy can backfire. 
Sure, you may end up at a flashy 'brand name' employer that just happened to have the resources to meet the salary you were looking for. But money may be all they can really offer. Tangible growth opportunities may not be so readily available at a big-name company as they are at a lesser-known organization. 
Lack of opportunity is one big reason to walk away from a job offer—even if the salary is nice.
Another reason to leave an offer on the table might be the company's track record in dealing with major changes. A great question to ask is how they navigated the start of the pandemic. The answer could signal how they'll approach an economic downturn as well. You want to look for things they may have pulled back on and where they redirected resources, for a sense of what they truly prioritize. 
And then of course, you need to read between the lines. If the company can't or won't provide satisfactory answers to these types of questions, it may be in your best interest to walk away. 
Lack of opportunity and lack of transparency are two red flags you don't want to ignore if you're looking for a role where you can thrive for the long term.
Tomorrow: How can you make sure you don't experience "resignation regret" by jumping too quickly at a new role? We'll talk about it on the next episode of The Perna Syndicate. See you then!
---
---
---