540 - This Is How You Win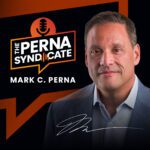 Episode: 540
Episode Title: This Is How You Win
Your attitude is engineered by your professional skills. Here's 3 ways to start building those skills in your own life, coming up next on The Perna Syndicate.
Ep 540 show:
It's a great day on The Perna Syndicate! In fact, it's been a great couple weeks looking at the top professional skills we need to engineer a winning attitude at work, and beyond. Today I want to get practical about these skills. How exactly do we develop them?
First, we need to view every interaction, every conversation as either an opportunity to learn something new or practice the skills we already possess to make them stronger. 
Second, we need to pick one or two areas to focus on and really attack them with intentionality. Take an online course, find a great podcast, read some blogs, or just crack open a book on the subject. Self-directed learning has exploded over the past several years, and every day people are leveling up their skills by gleaning insights from the best minds in the field. You can, too. 
Third, we need to find role models to emulate. These can be people we work with (in which case, we might approach them about a mentoring relationship) or public figures whom we admire. Think about what you appreciate about them and how you can practice those skills in your own life. Imitation is the sincerest form of flattery!
If you consistently cultivate these skills in your professional life, you will find your attitude will follow suit. A positive attitude is how you win—at work and at life.
Thanks for tuning in and making The Perna Syndicate a part of your day. I'm your host, Mark Perna, and we'll see you back here next week for more on The Perna Syndicate. Until then, take care!
---
---
---