539 - Empathy Doesn't Assume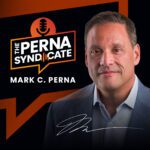 Episode: 539
Episode Title: Empathy Doesn't Assume
If I had to sum up diversity, equity, and inclusion in one word, I'd use empathy. Here's why empathy doesn't make assumptions, coming up next on The Perna Syndicate.
Ep 539 show:
Hello and welcome to The Perna Syndicate! We are all about professional skills lately: why they matter, which ones are most important, and how working on these skills can have a powerful trickle-down effect on our overall attitude. I want to cover just one more before we wrap up this conversation, and that one is empathy.
I think we could sum up a lot of the diversity, equity, and inclusion training out there today in this one skill. Empathy is really just the ability to imagine what it's like to be another person—seeing things from their point of view and then caring about how they feel. Empathy identifies with others, acknowledges what is hard for them, and refuses to be judgmental.
Empathetic people are natural magnets, because everyone wants to be around someone with that kind of concern for others. I mean, wouldn't you?
Empathy is especially powerful when it's paired with teachability. In our quest to become more empathetic, we might fall into the trap of guessing how others feel and think, rather than actually hearing them. Teachable people have an innate humility that helps them not to assume they know what other people are going through.
To gauge our level of empathy, we can ask ourselves: do I consistently try to see things from other people's perspective? Every interaction we have, both at work and beyond, can benefit from an empathetic approach.
Tomorrow: so all these skills are great, but how do you actually attain them? We'll cover three ways to do that on the next episode of The Perna Syndicate. See you then!
---
---
---