523 - Teachers Want Flexibility Too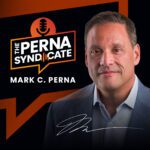 Episode: 523
Episode Title: Teachers Want Flexibility Too
Teachers want flexibility too—and now they may finally have a chance to get it. Here's why, coming up next on The Perna Syndicate.
Ep 523 show:
You're now in The Perna Syndicate—welcome! Traditionally, education hasn't been flexible. You have to do the prep, show up in person, and often work after hours communicating with families as well as planning the next day's lesson. But now, this rigidity is being challenged. Like everyone else, teachers want flexibility—or else.
In many places, online and blended learning models are giving teachers some of the flexibility they crave. Online learning can give them back some of their time, but that's not the only advantage.
Teachers can cut through some of the busy administrative work to focus on what they do best—teaching and building relationships with their students. True online learning can also help teachers adapt to the individual needs of their students. For example, some students might prefer communicating over video conferencing, while others might respond better to phone calls or text messages.
This flexibility can give teachers more of a fighting chance to forge the human connection that students need more than ever. Deb Meyer of FlexPoint says that one of the top advantages she constantly hears from teachers is that online learning allows them to create more one-on-one connections with students. It's just easier to personalize.
After all, Gen Z students are already online. Teaching them online is just meeting them where they're at—and letting them know that they're seen, heard, and valued even in the digital space.
So this is all great for teachers, but what about students? On the next episode of The Perna Syndicate, we'll talk about how young people can also benefit from online and blended learning. See you then!
---
---
---