521 - Can Education Be Flexible?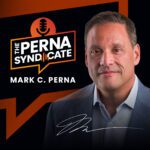 Episode: 521
Episode Title: Can Education Be Flexible?
The education field isn't known for its flexibility or agility, but both of these are in high demand today. Here's why we've got to adapt, next on The Perna Syndicate.
Ep 521 show:
Hello and welcome! It's a new week on The Perna Syndicate and I'm your host, Mark Perna. For educators, summer is winding down and many are probably starting to plan for the coming school year. Unfortunately for many organizations, the process this year may include contingency plans to retain teachers and support staff—and fill the gaps if they do quit. 
Staffing shortages are fast becoming the next crisis that school leaders are working hard to avert. According to recent reports, teacher turnover, which usually averages about 16% nationwide, could see a spike. Anywhere from 25 to 54% of educators are considering leaving the profession. And that's not even counting non-teaching support staff positions, which are becoming harder to fill.
High levels of stress, increasing demands on time and energy, salary considerations, safety concerns, and more are all contributing to this potential exodus. At the same time, teacher training programs are seeing a drop in enrollment as fewer young people choose to pursue education as their profession. Harvard actually dropped their undergraduate teaching program altogether, citing low enrollment.
What's driving educators and support staff to exit the field? There are many reasons, but one of them is the lack of flexibility. 
The big question is: Can education become a more flexible profession? 
We're going to tackle that question this week—along with what could happen if we don't adapt to the brave new world of education. Join me tomorrow on The Perna Syndicate to start this conversation. See you then!
---
---
---