424 - A Clear Path to Growth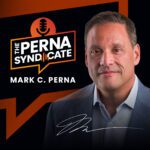 Episode: 424
Episode Title: A Clear Path to Growth
For Gen-Z, nothing says "thank you" like a clear path to advance their skills and careers. Let's talk about what that means, coming up next on The Perna Syndicate.
Ep 424 show:
Hello and welcome to The Perna Syndicate! If you're truly thankful for your team and everything they contribute to your shared journey, you probably want them to stick around for the long term. And that will only happen when they feel that their effort is seen and valued.
We've talked about how to show gratitude and do it on a personal level to increase people's performance—whether that's at work, school, or even home. But one way we might not think of to express thanks, is to give people a clear path to growth.
Today, record numbers of employees are looking for a change in their career. They could be seeking a new job entirely or exploring a new role within the organization. The point is, they want to expand beyond their current position into something that fully utilizes the best they can bring.
That is especially true when it comes to members of Gen-Z, who will seek out a wide range of experiences and skill sets over the course of their career. These young people are embracing the idea of continual, career-long learning. For them, it's just the norm.
Broadening their skill sets gives them more long-term career growth opportunities, along with the flexibility to move across multiple fields as the workplace evolves.
Employers can recognize and reward their employees' desire to grow by providing resources to enhance their skills. Everyone wins when companies thank their people by investing meaningfully in their career advancement.
On the next episode of The Perna Syndicate, we'll talk about why people often boost their performance when they receive specific praise. Take care and we'll see you then!
---
---
---