401 - The Year of the Employee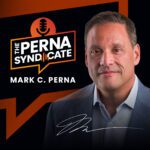 Episode: 401
Episode Title: The Year of the Employee
People are calling 2022 the year of the employee. So where does that leave employers? Let's talk about it, coming up next on The Perna Syndicate.
Ep 401 show:
Hello and welcome to a new week on The Perna Syndicate! I'm your host, Mark Perna. It's February and we're well into 2022—the year that some are calling "the year of the employee." Thanks to the pandemic, the balance of power between the employer and the employed has shifted in profound ways. 
The Great Resignation is one evidence of this seismic change. Millions of people are leaving their current positions—some, before they even have a new job lined up. There's a record talent shortage. We've all seen the "help wanted" signs out there. And they're pointing to a deeper reality: people are taking their time to decide what they really want out of their life and career. 
Employees are also expecting more from their leaders, with younger-gen workers especially looking for a more "on-demand" leadership and mentoring style from their managers. They want autonomy and ownership in their work—but also a manager who's ready to jump in with the right support at the right moment. 
Companies can choose to view these workplace trends as a negative thing—or embrace the future by prioritizing the organizational culture. An enhanced employee experience will help organizations recruit new talent—and, just as importantly, retain the talent they already have.
The War for Talent isn't just a recruitment game. It's all about retention too—and it's going to heat up as the year of the employee continues. 
Tomorrow: the new virtual workplace demands strong leadership, and there are two crucial traits that every leader needs to be effective. We'll talk about them on the next episode of The Perna Syndicate. See you then! 
---
---
---