400 - Professional Skills Aren't Soft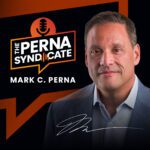 Episode: 400
Episode Title: Professional Skills Aren't Soft
The term 'soft skills' is a weak one to describe the significant impact these essential traits and abilities can have on your career. Here's a better way to define them, next on The Perna Syndicate.
Ep 400 show:
Hello and happy Friday! This is The Perna Syndicate. This week, we've been talking about robust academics, technical competency, and professional skills together create a dynamic competitive advantage for young people.
I coined the term 'professional skills' to replace 'soft skills' because it's much more impactful. These abilities are important and valuable—even essential. Professional skills aren't soft. In fact, they're anything but.
Every industry needs people with powerful professional skills—things like work ethic, punctuality, communication, leadership, ability to accept feedback, integrity, critical thinking, problem-solving, stress management, and many more.
But employers can no longer take these abilities for granted. Several years ago the Wall Street Journal surveyed more than 900 executives about the need for workers with these types of traits. 89% stated they have a very difficult or somewhat difficult time finding hires that possessed the professional skills to thrive at work.
It's refreshing to note that professional skills will never go out of date. They were important yesterday and will only grow more significant as the workforce becomes more automated. Professional skills are uniquely human.
Whatever we teach young people, let's not give them the idea that professional skills are optional. In the workplace of the future, they're absolutely essential—and they're absolutely not soft.
Thanks for being part of The Perna Syndicate this week! I'm your host, Mark Perna, and I appreciate you tuning in as I cover education, careers, and the multigenerational workplace. We'll see you back here next week for more on The Perna Syndicate. Take care!
---
---
---