360 - A Time to Reflect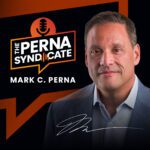 Episode: 360
Episode Title: A Time to Reflect
The holidays are upon us once again. Amid the festivities, it's worth taking a moment to reflect on all the things that make life rich. Stay tuned for more, next on The Perna Syndicate.
Ep 360 show:
Hello and welcome to The Perna Syndicate! Here in the U.S. and around the world, it's Christmas Eve. No matter how or if you celebrate, this end-of-year time is a great moment to pause and reflect on what this year has brought.
One thing I'm reflecting on is the way that we have all adapted so courageously to a world that looks very different than it did in previous years. What a privilege for me to witness the many ways that you continue to make a positive difference for the young people you interact with.
It's never been harder to be that person, the one who stays positive and focused on helping others. The one who never gives up. And yet it's never been more essential.
If you're like me, you find the holidays a natural time to take stock of the past year and practice gratitude. Maybe you've seen some great personal and professional successes this year. Celebrate those! Or maybe it's been a rough year and you've had setback after setback. It's okay to acknowledge the things that have been, well, hard.
Many of us can look back and see both wins and losses, some smaller and others, more profound. I'm right there with you. But all these things, good and bad, are part of our story and the people we are becoming.
This holiday, I wish you and yours a wonderful celebration of all the things that make life rich. Merry Christmas and happy holidays!
Thanks for tuning in this week. We'll see you back here next week on The Perna Syndicate as we wrap up 2021 and look to the future. Until then, take care!
---
---
---