359 - Preparing Kids to Adult Well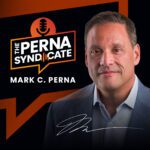 Episode: 359
Episode Title: Preparing Kids to Adult Well
How can parents help their kids get ready for the real world? Sometimes, we have to let them make mistakes. Let's talk about it, next on The Perna Syndicate.
Ep 359 show:
Welcome to The Perna Syndicate! Adulting—and how young people can do it successfully—is our topic this week. Today I want to cover a crucial step that parents can take to help their kids get ready to succeed at life and work. 
It's exciting to be independent, but there's so much that goes into it. As parents and educators, where do we even start with preparing them? Alongside teaching them the basics of money management and personal responsibility, I've found one of the best things we can do is let them make mistakes. 
Rushing to solve their challenges, make their appointments, or even deal with their employer isn't going to help them in the long term. Sometimes they need to feel the consequences of acting like a child in a grownup world. Otherwise, they'll never reach their full potential as independent, self-sufficient adults. 
I had to do this with my sons—and it wasn't always fun. Our instinct is to help our kids, not watch them flounder. I was always there with advice and support, but not easy solutions. They had to figure those out for themselves. Today, they're adulting pretty well out there in the real world. 
Struggle is how we learn. Knowledge that we gain the hard way is often what we remember and implement the most. Yes, adulting is hard—and so is parenting those emerging adults. But it's worth it so they can create the life they want to live. 
Next up, the holiday season is a great time to pause and reflect on what this year has brought. We'll see you back here tomorrow on The Perna Syndicate!
---
---
---