344 - Extroverts and the Hybrid Experience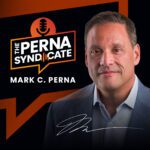 Episode: 344
Episode Title: Extroverts and the Hybrid Experience
Fully remote work was hard for extroverts—but it did give us a new appreciation for connecting in person. Stay tuned for more, next on The Perna Syndicate.
Ep 344 show:
You're now in The Perna Syndicate—welcome! Yesterday, we talked about how hybrid work models are serving introverted employees well in the new world of work. Today, I want to look at how hybrid work can empower another cohort of employees: the extroverts. 
If you haven't guessed, this is my group. I'm a huge extrovert, I love people, and I love being around them. So the abrupt switch to fully remote work was a little tougher for me, and probably for a lot of my fellow extroverts. We missed the face-to-face interaction and the energy we generated from those human connections. 
Sure, it was great to connect with my team and clients through Zoom and other platforms. I continue to use these solutions every day to deliver keynotes, facilitate consulting meetings, and brainstorm with my team. But I'll be the first to admit that it's just not the same experience as being onsite together. 
That's why I personally am enjoying the hybrid model our business is building. I still travel to deliver keynotes and workshops, but I also connect virtually with many clients and audiences. It brings together the best of both worlds.
I used to take in-person conversations and presentations for granted. Remote work has changed that forever. Now, the hybrid model helps me appreciate both remote and in-person options for their different benefits. And I'm sure many other extroverted workers could say the same. 
Remote work isn't going away, but neither is the office. The hybrid experience is a great balance—and one that I, for one, can work with.
Next up, how does hybrid work serve asynchronous workers who are juggling many different—and sometimes competing—responsibilities? We'll talk about it tomorrow here on The Perna Syndicate. See you then!
---
---
---