332 - What's Holding Women Back in Tech?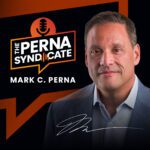 Episode: 332
Episode Title: What's Holding Women Back in Tech?
Without representation in STEM careers, women will be left behind as technology shapes our lives. Let's talk about it, coming up next on The Perna Syndicate.
Ep 332 show:
Welcome—you are now in The Perna Syndicate! Yesterday we talked about some scary numbers regarding women in the tech field—like the fact that only 3% of female students see a technology-related career as their first choice. Yikes!
Without meaningful representation in this field, women will be left out of the conversations that are shaping our future. To learn more about this challenge, I connected with Somi Arian, founder of Fempeak and a champion of women in tech. Arian believes that to cross this gender gap, women need education and encouragement from a young age. 
Unfortunately, says Arian, girls are often steered away from careers and activities having to do with STEM. Even the ones who do show interest may not be encouraged to pursue it. 
I've long been a proponent of all careers being on the table as young people explore their career direction. This is even more important for young women who express an interest in STEM. No one should be pushed in any direction except the way they want to go. 
Other factors holding young women back are fear and lack of confidence, says Arian. She believes that many women suffer from impostor syndrome, feeling like they simply don't have what it takes to conquer technology.
These are all solvable challenges. Young women need to be empowered to learn about technology and decide for themselves if it's a fit for their career and lifestyle goals. 
Tomorrow, we'll talk about why women of all ages can thrive in STEM careers. Thanks for listening and we'll see you back here tomorrow on The Perna Syndicate!
---
---
---