331 - We Need More Women in Tech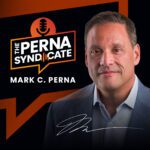 Episode: 331
Episode Title: We Need More Women in Tech
Despite the fact that technology affects us all, women represent only a quarter of the STEM workforce. It's time to change this—coming up next on The Perna Syndicate.
Ep 331 show:
Hello and welcome to a new week on The Perna Syndicate! I'm your host, Mark Perna, and today I want to share some startling numbers about women who work in technology. 
The fact is, there simply aren't enough women pursuing technology-related careers. At Google, for example, women hold just 18% of technical roles. A recent report indicates that only 25% of STEM workers are women. Even more problematic, only 3% of female students would consider a technology career as their first choice. 
This isn't a good trend, as it threatens to leave half the world's people out of the conversation as technology advances. In fact, at this rate, women won't reach gender parity in this field until 2133. Nowhere is this clearer than in engineering, where women make up 20% of engineering graduates, yet only 11% percent of practicing engineers are women. Even worse, almost 40% of women who earn engineering degrees either quit or never enter the profession. 
So, why is this happening? According to the survey, the top reason is lack of female mentors and role models. To thrive in this critical field, women need other women to empower their career journey.  
I recently connected with female tech-philosopher and FemPeak founder Somi Arian to talk not just about this problem, but also how we can start addressing it. 
Tune in tomorrow as I share the insights she shared with me. Like so many things, a stronger tech presence for women starts with education. We'll talk about it tomorrow on The Perna Syndicate…see you then!
---
---
---