288 - Will Employers Really Put People First?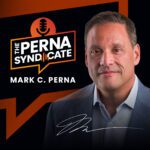 Episode: 288
Episode Title: Will Employers Really Put People First?
Today, employers have the chance to prove they really do put their employees' needs first. Find out more, coming up next on The Perna Syndicate.
Ep 288 show:
Greetings—you are now in The Perna Syndicate! Working parents are bracing themselves for a school year that could go either way. Some districts are able to offer in-person learning, while others are already back to remote instruction. The one thing we can all be sure of, is that everything could change again tomorrow.
This is tough if you've returned to the office, but your kids might need you at home. Even if your kids are back in the classroom, it may be wise to start having conversations with your employer now about what you might need if things change. This early dialogue can then pave the way for you to negotiate for a more flexible arrangement, should the need arise.
I believe that parents should have the choice to alter their work schedules and/or location to take care of their kids. Job sharing, workload balancing across teams, and other options can give parents the flexibility to do their jobs while still meeting the needs of their families.
Lately, there's been a lot of talk about "people-first workplaces." That's all great stuff, but now employers have a chance to prove they mean it. Companies should never force employees to choose between their job and the needs of their family.
The employers that truly do prioritize their employees will be flexible. In so doing, they'll foster a compelling work culture that will attract and retain skilled workers.
On the other hand, companies that remain inflexible will lose the talented employees who are seeking a more flexible and supportive workplace.
Will employers really put their people first? I think we're going to find out.
Tomorrow: parents are concerned not just about the safety of school, but also the learning loss many students experienced last year. We'll talk about this and more on tomorrow's episode of The Perna Syndicate…see you then!
---
---
---