287 - The One Thing We Can Control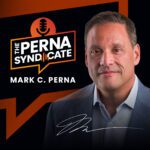 Episode: 287
Episode Title: The One Thing We Can Control
With so much beyond our control this school year, let's focus on the one thing that we do control. Find out what it is, coming up next on The Perna Syndicate.
Ep 287 show:
Welcome to the Perna Syndicate! Yesterday, we talked about the disrupted school year we're all facing. Not one of us—kids, parents, and educators alike—appreciates the way the pandemic has showed up uninvited for yet another school year. 
I think one of the hardest things right now is the uncertainty. We just don't know how things will change from one week to the next. If this is tough on us as adults, think how it could affect the mental health of kids. 
I connected with Dr. Benjamin Miller, President at Well Being Trust, to talk about the mental health aspect of this school year. He says the first step is to recognize that there are simply some things that are going to be out of our control. 
We can't control what happens with COVID, how others decide to handle it, or how they will respond to our decisions. All of this can be very stressful, so what can we do besides worry? Dr. Miller says that the best we can do is let our voice be heard. Expressing our thoughts and concerns in a constructive way can alleviate some of the pressure. 
Then, take a breath. One day, this too shall pass. Together, let's do all we can to stay grounded in the moment and talk to each other about how we are feeling in the midst of these crazy times. 
Most of all, let's model to our kids the one thing we can control in the midst of all this uncertainty—and that's the attitude we bring to it.
The uncertain school year presents extra challenges for working parents, who may need to juggle the demands of work with the needs of their kids' education. We'll address this topic on tomorrow's episode of The Perna Syndicate…see you then!
---
---
---