269 - The Legacy We Leave Behind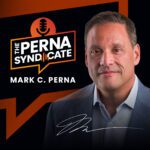 Episode: 269
Episode Title: The Legacy We Leave Behind
Am I leaving the world a better place? It's a rising question for entrepreneurs, especially those from the younger generations. Find out more, coming up next on The Perna Syndicate.
Ep 269 show:
Hello and welcome to The Perna Syndicate! How many of us think long and hard about the legacy we're going to leave behind? For entrepreneurs, this question only becomes more important as the business grows.
According to Xero's study, achieving profitability was individuals' highest motivation to start their business. Another big priority was wanting to make more money than they were in their previous job. Initially, creating a legacy through their business was not a major motivation for either Gen-Z or Baby Boomer entrepreneurs.
Once the business was operational, however, things shifted. Profitability was still a measure of success for a third of owners, but creating a legacy jumped to second place and strategic growth came in third.
This shift is even more pronounced for Gen-Z entrepreneurs, who are finding that fulfilling their own individual purpose and pursuing their passion is a stronger motivator than just making money. Of course financial stability and freedom are still important, but they're no longer the only goal.
I think we can all benefit from asking ourselves about the legacy we're leaving behind. Yes, I achieved this and this and this, but did I leave the world a better place? In the end, that's what people will remember.
On tomorrow's show, how are entrepreneurs approaching life and work after the pandemic? Turns out there's a big generational divide on this question. We'll see you back here tomorrow on The Perna Syndicate.
---
---
---