267 - Is This What I Signed Up For?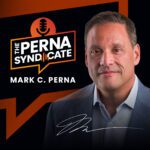 Episode: 267
Episode Title: Is This What I Signed Up For?
Is this really what I signed up for? Entrepreneurs all over North America are asking themselves this question. Here's why, coming up next on The Perna Syndicate.
Ep 267 show:
Hello and welcome—you are now in The Perna Syndicate! Expectations versus reality—the two never match up as well as we think. And that's never truer than when it comes to starting a business.
According to a recent study by Xero, a majority of entrepreneurs started their business so they could enjoy more flexibility and control. But having more flexibility and control doesn't necessarily mean you'll have less stress. In fact, almost half say that that is the single biggest misconception about starting a business.
Other areas where small business owners' expectations didn't line up with reality include:
You'll have more control of your time (ha!)

It will be more fun than working for someone else (mm, maybe)

You'll make more money than you were before (might be true but not a guarantee)

And lastly, you'll spend much more time being creative than performing mundane tasks (that's certainly not the case).
It's nice to know I'm not the only small business owner who has experienced disillusionment. I've asked myself so many times, is this really what I signed up for? I think we all ask ourselves this question, whether about our business or any other area of life.
But then I think of the difference my company is making, our positive impact that is growing every day. And I answer my own question: yes, this is exactly what I signed up for. And I wouldn't trade it for anything.
Tomorrow: how long are new business owners waiting before they decide their company is a success or a flop? We'll talk about tomorrow on The Perna Syndicate. See you then!
---
---
---