266 - The Soul-Searching of the Entrepreneur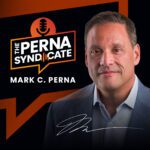 Episode: 266
Episode Title: The Soul-Searching of the Entrepreneur
As corporate America rebounds from the pandemic, how are all the small businesses navigating this new landscape? Find out more, coming up next on The Perna Syndicate.
Ep 266 show:
Hello and welcome to The Perna Syndicate! I'm your host, Mark Perna, and today I want to talk about a subject that I live and breathe every day—and that's entrepreneurship.
As an entrepreneur I've experienced both ends of the spectrum, from bankruptcy to the success I now enjoy. Today, the future is bright, but it wasn't always for me. I've done an immense amount of soul-searching along this journey, and it continues to this day.
I was interested to learn of a recent study by Xero that probed the mind of America's small business owners like myself. Four distinct generations—Generation-Z, Millennials, Generation-X, and Baby Boomers—were represented in the study. Each generation expressed a wide range of feelings about their companies. Some were optimistic about the future; others, less so.
But common to all were the conflicting feelings that come with running your own show. The past year and a half of pandemic conditions have been especially tough on small business owners like myself as we forged a whole new way of doing business.
With Gen-Z coming in as the most entrepreneurial-minded generation we've ever seen, this is a timely topic. This week, I want to look at four soul-searching questions that all entrepreneurs ask themselves at some point—and the data that reveals how we're answering them.
On tomorrow's show, how do small business owners deal with disillusionment about their dream of entrepreneurship versus how it actually plays out? I've been there, and it was fascinating to see how others responded. See you back here tomorrow on The Perna Syndicate!
---
---
---