236 - Failure Isn't Fatal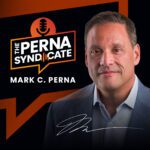 Episode: 236
Episode Title: Failure Isn't Fatal
To fail is human, but to pick yourself up, learn from it, and keep moving forward is the mark of a successful person. Find out more, coming up next on The Perna Syndicate.
Ep 236 show:
Hello and welcome to The Perna Syndicate! I'm your host, Mark Perna, and today I want to talk about something we've all done—and that's fail. 
Whether we're talking everyday, minor errors of judgment or truly epic blunders that could affect the rest of your life, failing is a universal human condition. All of us have limited perspectives, abilities, and ideas that sometimes steer us in the wrong direction. 
I have had my share of failures in life. I once started a business that ended in bankruptcy. Yep, lots of mistakes I made there. I have failed in my family life, in my priorities, in my health, and in so many areas. 
But I have learned that failure doesn't have to be fatal. Many times, I can't succeed without failing first. Failure has a lot to teach us, if we can just pick ourselves up, take the lesson, and move beyond it. 
What makes my failures livable for me today is the person they have helped me become. My greatest mistakes have become some of my greatest advantages, because I can now tell a powerful, relatable, and inspiring story. To fail is human.
We've all felt the burn of a bad decision, but not everyone chooses to move beyond it. Today, remember that failure—your failure, in whatever area of life or work—doesn't have to be fatal. Take the lesson, gain the wisdom, and keep moving toward success. 
If you enjoyed today's episode, there's more to The Perna Syndicate at MarkCPerna.com. Check in for fresh content posted weekly, and of course, we'll see you back here tomorrow for more. 
---
---
---