218 - The Top 5 Soft Skills I Hire: Teamwork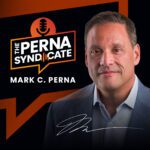 Episode: 218
Episode Title: The Top 5 Soft Skills I Hire: Teamwork
File Name: the-top-5-soft-skills-i-hire-teamwork
Team players don't just work well with others—they also navigate personal and professional differences well in the workplace. Find out more, coming up next on The Perna Syndicate.
Ep 218 show:
Hello and welcome—you're now in The Perna Syndicate! On almost every resume and cover letter, there seems to be a key theme. Everyone is eager to prove that they "work well with others" and are "team players." Yes, teamwork is an absolute necessity in today's collaborative workforce. But what does it really mean?
Teamwork is more than just being a pleasant person to work with. I define it as active participation in collaboration with others—the ability and desire to partner seamlessly, with anyone in the company, to accomplish whatever is needed.  
That type of close working relationship will not come without its sticky patches. My team has had its share of these moments and we always try to believe the best of each other's motives, respect the diversity of opinions represented and keep our focus the quality of the work. 
I know that each person is striving to create the best possible product for our clients and because we are committed to teamwork, we are able to navigate our creative and sometimes even personal differences.
Developing strong teamwork skills happens in real time, as you work closely with diverse people with unique talents, opinions, and strengths. Sometimes you have to set your preferences aside for the best outcome. 
The best team players are the ones who appreciate the value of not just their own contribution, but what every team member brings to the overarching mission.
Thanks for listening today! Tomorrow, it's all about the professional skill of problem-solving. Every company needs people who can see the challenges—and solutions—from a fresh angle. We'll see you back here tomorrow at the Syndicate.
---
---
---