213 - People Not Paperwork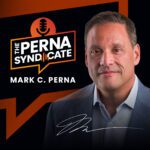 Episode: 213
Episode Title: People Not Paperwork
File Name: people-not-paperwork
Onboarding a new employee should be more about people and less about paperwork. Stay tuned for more, coming up next on The Perna Syndicate.
Ep 213 show:
Hello and welcome! I'm Mark Perna, and this is The Perna Syndicate. Today we're talking about a simple best practice when it comes to onboarding someone new in your organization. You may not be the person in charge of hiring or onboarding new hires, but you can still make a positive difference in their experience at the organization. 
Informal onboarding, where new employees brush shoulders with coworkers and pick up casual insights from those interactions, is harder than ever these days when distance is mandatory. But onboarding still needs to be more than a process or pile of paperwork for the new person to complete. Rather, it should be an ongoing experience that begins and ends with people.
In our digital hybrid age, we can't replicate the same in-person experience in a virtual environment. But there are many ways to engage new hires virtually. Experts suggest things like brief presentations by executives, educational videos with consistent brand style and voice, informal sessions with business leaders and managers, structured activity sessions with the new team and increased communication around programs like benefits and perks. 
Most of all, virtual onboarding must include interactions with coworkers. If you're in charge of onboarding, make sure that people—not paperwork—are the dominant note. 
If you're not the person responsible for onboarding new people, you can still help by reaching out to the new person and letting them know: they're welcome here.
Tomorrow: many organizations treat onboarding like a bootcamp—but is that really the best approach? Listen in tomorrow as we talk about it. See you then!
---
---
---