212 - First Impressions Set the Tone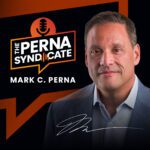 Episode: 212
Episode Title: First Impressions Set the Tone
File Name: first-impressions-set-the-tone
First impressions set the tone for the entire relationship. It's true in life, and it's true at work. Find out what this means for companies onboarding new employees, coming up next on The Perna Syndicate.
Ep 212 show:
Hello and welcome—you are now in The Perna Syndicate! I've always been a big advocate for making the most of the first two weeks of school. Organizations have ten days and one chance to really capture the hearts and minds of students before they decide to check out. In the world of work, onboarding a new employee isn't all that different. 
I've read that up to 20% of turnover can be tied to the new employee's experience during the first 45 days on the job. But despite the high stakes in retaining employees, new research by Gallup reveals that 88% of organizations currently don't onboard well. 
Of course, the pandemic hasn't helped matters. Working remotely, it can be easy for workers to feel detached from the company culture right from the start, especially if the onboarding experience isn't all that it should be. 
First impressions set the tone for the entire relationship. A relevant, engaging onboarding experience is the connective tissue between new employees and a long-lived, highly productive career within an organization. 
This is even more critical for Gen-Z workers just entering the workforce. Onboarding is the crucial moment to engage their loyalty and wholehearted contribution toward the company's overarching vision. 
This week, we'll look at a couple best practices to make onboarding not just a routine that everyone has to undergo, but a strategic advantage for companies looking for an edge in the looming war for talent. Stay tuned and we'll see you back here tomorrow at the Syndicate.
---
---
---