191 - How to Negotiate Your Salary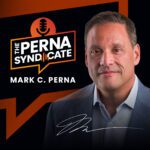 Episode: 191
Episode Title: How to Negotiate Your Salary
Salary negotiation doesn't have to be stressful. Here's how you can start building confidence to have that conversation with your current or future employer—coming up next on the Syndicate.
Ep 191 show:
Hello and welcome—it's a new week on The Perna Syndicate! As the economy continues to rally, companies are looking to fill positions and a lot of people are now going through the hiring process.  
For many people, the most stressful part of the whole experience is when the time comes to talk about the salary. This holds true whether you're applying for a new job or seeking a raise in your current role. 
Especially for younger workers who lack experience, the question becomes: How do you go about negotiating your salary with confidence?
I recently connected with Silicon Valley career coach Kyle Elliott to talk about this often-awkward step of the hiring experience. He says that while you may feel less confident about negotiating salary if you've been out of work and need a job to keep a roof over your family's head, remember that you still have power in this process. 
Companies need employees to be successful. You are bringing value to the company and deserve to be compensated equitably for the value you will deliver. 
The last thing anyone wants to do is open a new chapter in their career thinking they're getting paid less than they're worth. Even if you're experienced in negotiating salary, it never hurts to refine your technique. 
This week, I'll be sharing the top strategies for getting what you're worth at work. And of course, feel free to share these episodes with young people as they prepare for employment. Stay tuned and we'll see you back here tomorrow at the Syndicate. 
---
---
---