190 - Why You Should Make It Personal at Work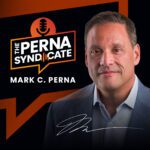 Episode: 190
Episode Title: Why You Should Make It Personal at Work
Being professional means being personal—and the personal touch is what makes employees want to stay at their current company. Find out more, coming up next on the Syndicate.
Ep 190 show:
Hello and welcome to The Perna Syndicate! All week, we've been talking about remote work and the problem of employee poaching, which is when a company lures workers away from its competition to work for them instead. With more and more companies adopting virtual work as a permanent solution, employee poaching could be on the rise.
Employers need to do more so their employees aren't even tempted by the next recruiter email that lands in their inbox. And one way to do this is to make work more personal.
It's obvious that employees are far less motivated to exit a work environment where they feel personally known and valued. This is especially true today, when a significant portion of the workforce is feeling burned out and overwhelmed.
Simple gestures like asking about an employees' family, hobbies, and other interests can help create that personal connection. Then, remembering how they answered and asking further questions as time goes on, shows that you actually listened the first time—and cared.
We all want to be professional, but that doesn't mean we can't be personal, too. In fact, I would argue that the greatest professionals are those who make that personal connection with everyone they come in contact with—clients and coworkers alike. That's how employers will defend their workforce against the threat of poaching—and succeed in an increasingly competitive labor market.
Go deeper with the Syndicate at MarkCPerna.com, where I post fresh content and episodes weekly. Thanks for listening this week, and we'll see you back here next week for more insights on education, careers, and workforce development.
---
---
---