188 - What Makes a Proactive, Positive Work Culture?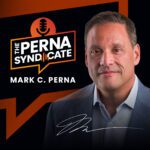 Episode: 188
Episode Title: What Makes a Proactive, Positive Work Culture?
What goes into a proactive, positive workplace culture that employees won't want to leave behind for another job? Let's talk about it now on the Syndicate.
Ep 188 show:
Hello and welcome—you are now in The Perna Syndicate! This week, we're talking about the new trend toward permanent remote work and how it could increase the incidence of employee poaching. Poaching is when a worker is specifically targeted to leave their current job for a new one, often at a competitor.
Prior to the pandemic, many companies were already struggling to engage and retain their workforce, especially younger workers. A 2018 LinkedIn study found that nearly nine out of ten workers aged 37 and younger would take a job for less pay if the other job was with an organization that better aligned with their personal values. It's a talent war out there.
So let's be clear: it's illegal to prevent your employees from interviewing for and accepting a position at a different company. Workers are free to work wherever they want, without interference.
That's why the real key to retention is building a workplace culture that workers just don't want to leave. And that can only happen if you're proactive about it.
What goes into a proactive and positive work culture? People want to be part of an organization that rewards performance, prioritizes regular career conversations, offers robust skill development programs, gives people stretch assignments, and provides volunteer opportunities.
All of these things communicate to employees that they're valued, they're part of a bigger mission, and their contribution matters. It's powerful, it's proactive, and it can help you win in the coming talent war.
Tomorrow, we'll talk about the planning that goes into a retentive workplace culture. We'll see you back here then at the Syndicate.
---
---
---