187 - A Poach-Proof Workforce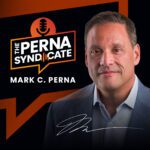 Episode: 187
Episode Title: A Poach-Proof Workforce
Making your virtual work arrangements permanent has a lot of benefits, but there may also be a dark side: employee poaching. Find out more, coming up next on the Syndicate.
Ep 187 show:
Hi, I'm Mark Perna and this is The Perna Syndicate! Remote work, once just a stopgap measure for when you couldn't be in the office, has become the new standard in America during the pandemic. Now, as we emerge from some of the restrictions that made remote work necessary, companies are asking themselves if a fully virtual workplace is actually the best choice in the long run. 
Many are choosing to stay remote. Their employees love it, it's working, why change it now? Like anything, virtual work has its pros and cons, but one con that many may not realize is how remote work increases the possibility of employee poaching. 
Employee poaching is not your employees stealing something—it's your employees themselves being stolen by the competition. Employee poaching happens when a recruiter specifically targets a worker to leave their current position in favor of a new one. And remote work might just make this easier to do. 
Before the pandemic hit, a talent war was being waged as companies scrambled to find skilled workers. As the economy gets back into gear, so will that struggle to recruit and retain the best talent. 
Today, business leaders need to be actively thinking about how to "poach-proof" their workforce. If companies aren't proactive about this, employees might starting wondering if the grass really is greener on the other side. 
This week, we'll talk about the ways that employers can retain their employees amid the coming talent war. Stay tuned and we'll see you back here tomorrow at the Syndicate. 
---
---
---