168 - What's Your Resting Pulse?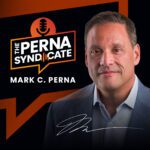 Episode: 168
Episode Title: What's Your Resting Pulse?
What's your resting pulse, your default setting? Mine is being uncomfortable…and that's what drives me forward. Stay tuned for more, coming up next on the Syndicate.
Ep 168 show:
Welcome—you are now in The Perna Syndicate! I'm your host, Mark Perna. Have you ever heard the phrase "resting pulse" as a term describing a person's default setting, their natural state when they're not experiencing external pressure of some kind?
My resting pulse, I've come to realize, is being uncomfortable. I never stop challenging myself and my company to do new things, bigger and better than ever before. There is always a new mountain to conquer.
My resting pulse of being uncomfortable is what leads me to say yes to things that are far beyond my current capability—and then figure out how to make them happen. Sometimes I feel like this gets me in over my head, but somehow, I always make it to the surface. So far, anyways!
My comfort with being uncomfortable is why I constantly have to focus, plan, and take action—sometimes massive action. And I believe it's why, today, I am a successful author, speaker and consultant in education and workforce development.
So what's your resting pulse? Are you always striving and challenging yourself to do more? Or do you operate on more of a level plain where you feel more capable of meeting the challenges facing you?
I don't know if there's a right or wrong answer to these questions, because we're all uniquely gifted individuals. But I do think there's value in being aware of your personal resting pulse and how it can affect your life and work.
Keep empowering your career journey with more insights from my blog at MarkCPerna.com. We'll see you back here tomorrow at the Syndicate!
---
---
---