167 - Life As An Entrepreneur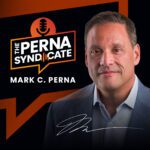 Episode: 167
Episode Title: Life As An Entrepreneur
Gen-Z is the most entrepreneurial generation to date—but do they know what it's really like to be your own boss? Here's my experience as an entrepreneur, coming up next on the Syndicate.
Ep 167 show:
Hello and welcome—you are now in The Perna Syndicate! A significant majority of Gen-Zers say they want to be their own boss someday, and I applaud that. I also hope they know what they're getting themselves into!
I've been an entrepreneur for most of my working life and let me tell you, it's not for the faint of heart. Entrepreneurs experience the full brunt of economic downturns, the pressure of supporting the people who work for them, and all the stresses and day-to-day decisions that could have enormous ramifications down the road.
As the founder and CEO of my company, I'm never really "off." Even when I'm not working, my brain is always working—always thinking ahead, always strategizing our next move as a company trying to make a bigger difference in education and workforce development. Being an entrepreneur means living a completely blurred line of lifestyle and career. Work is intertwined in everything I do.
But don't think I'm complaining. The reality of being an entrepreneur is demanding and consuming, but it's also incredibly rewarding. I love what I do. Nothing excites me like igniting a spark for someone else to focus, plan and take action. I get to make a difference every day, and that's what drives me.
To the entrepreneurs of Gen-Z, I would just say to be ready not for a work-life balance, but a work-life blur. If you love what you do and you're willing to take on the pressure and passion of being your own boss, there's nothing like it. I wish you all the best on your journey.
For more insights into the world of work, follow me at Forbes.com, where I publish fresh content every week. We'll see you back here tomorrow at the Syndicate!
---
---
---