142 - What Makes a Job Great?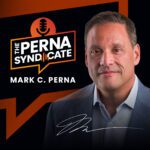 Episode: 142
Episode Title: What Makes a Job Great?
Young people need to see the big picture of a job. It's not just the salary, but the full experience that makes a job great (or not). Stay tuned for more.
Ep 142 show:
Hello and welcome to The Perna Syndicate! Yesterday, we talked about the 50 best jobs in America, as defined by the job search platform Glassdoor. Every year, Glassdoor analyzes the careers in its job database to come up with this highly respected career roundup. 
Yesterday we talked about using this list and others like it to spark productive career conversations with young people. It's great to just get the wheels turning, as they think about what's out there and what's in demand. 
These lists are also helpful to give them a well-rounded perspective on what makes a great job. To make Glassdoor's top 50 list, a job must offer three advantages: at least 2,000 open job listings on the site, a competitive salary, and high job satisfaction.
When considering a potential career, a young person can run it through Glassdoor's criteria. First, it has to be something that there is demand for. Second, it should pay well. And third, and maybe most importantly, it has to be something they find personally rewarding and enjoyable. 
If you're talking careers with young people, encourage them to add their own criteria for a great job. There's more to a position than just the daily responsibilities. How will it ultimately advance the lifestyle they want to live? 
That's the real question—and another way we can use top career lists like this one to get young people thinking and planning for a great job.
If you want to check out Glassdoor's full list of this year's Best Jobs and use it with young people, check out my Forbes.com article. Tomorrow, we'll talk about a new trend in the workforce: dramatic career changes. See you then!
---
---
---