13 - Competitive Advantage Professional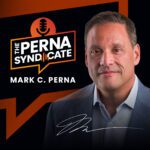 Episode: 13-competitive-advantage-professional
Tease: Are soft skills as soft as they sound? Stay tuned to find out why they're critical in today's workforce—coming up next on The Perna Syndicate.
Ep 13 show:
This week, we've been talking about the three critical components that give young people a competitive advantage: robust academics, technical competency, and professional skills—also known as soft skills. I prefer the term 'professional skills' over 'soft skills' because it better communicates the importance and value of these abilities.
So professional skills are simply the personal attributes and character to succeed in the workplace: work ethic, punctuality, communication, leadership, ability to accept feedback, integrity, critical thinking, problem-solving, stress management, and many more. They are universal across all levels, in all industries, at all times.
And they're no longer taken for granted. According to a 2016 Wall Street Journal survey of more than 900 executives, fully 89% stated they have a very difficult or somewhat difficult time finding hires with these skills and traits.
Professional skills will never go out of date. These crucial character traits and values were essential yesterday and will continue to matter as the workforce evolves—perhaps becoming more important than ever.
When an individual has the academic and technical credentials, professional skills complete the package. Young people who focus on developing in all three of these areas will create a dynamic competitive advantage in today's hiring market—and future-proof their careers.
Like what you just heard? Follow me at Forbes.com for weekly articles on the younger generations, at school and on the job.
---
---
---