125 - Even During COVID You Are Making a Difference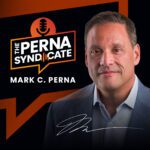 Episode: 125
Episode Title: Even During COVID You Are Making a Difference
Are you discouraged by the COVID learning slide and all the academic ground that students have to make up? Don't forget this one important thing…coming up next.
Ep 125 show:
Hello, happy Friday, and welcome to The Perna Syndicate! This week, we've been discussing the impact of the COVID shutdowns on students' education. There's a very real academic learning loss that has taken place, and educators are concerned about the long-term effects. We've covered several ways to approach the COVID slide constructively, and today I want to leave you with one last thought.
You are making a difference.
If you're interacting with students via Zoom, I know it's been an incredible challenge. Even beyond the hurdles of technology and just getting connected, teaching remotely is a whole new ballgame. Educators have stepped up big time to the challenge. But after all the effort and heart you've poured into your students this past year, it's hard to hear that they're behind.
Please don't be disheartened. The impact you have is often invisible on a day-to-day basis. (And that goes for when things are normal, too.) Your consistent presence in kids' lives—in person or via a screen—means more than you may ever know. You have been a familiar face, a familiar voice, in a very unfamiliar and uncharted time.
The rewards of your work are cumulative and may not be clearly evident immediately. But never forget that you are making a difference. The only reason kids aren't further behind is because of teachers who care.
If you're a teacher, thank you for everything you have done and are doing. If you're not a teacher, say thanks to the teachers in your life. They are making a difference.
Thanks for listening this week! If you can, leave a review for The Perna Syndicate at Amazon and help me reach more people with this message. We'll see you next week!
---
---
---