117 - What's Your Light at the End of the Tunnel?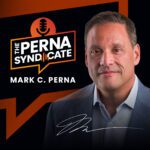 Episode: 117
Episode Title: What's Your Light at the End of the Tunnel?
What's your light—the reward that drives you to persevere through the tunnel? We'll talk about this and more, coming up next on The Perna Syndicate.
Ep 117 show:
Hello, and welcome—I'm your host, Mark Perna! Yesterday, we introduced the motivational strategy I call the light at the end of the tunnel. The light is the goal or the reward, and the tunnel is the work, time, and effort to reach that light. The light creates internal motivation, where we achieve more because it's all driven from within.
Today, I want to help you move a little closer to your light. First, you have to define it. What do you want your life to look like? Who are the people, the things, the achievements that you want in your life?
It doesn't have to be just one light or one tunnel. You may have a light at the end of your health and wellbeing tunnel (I know I do!). You may have a light at the end of your professional tunnel, where you want to take your career. Your light may be a stronger family life, a new house or car, a steadier income, some material item, a personal goal you want to prove to yourself—it can be anything, and you may have many of these goals and rewards in view.
It can help to prioritize which tunnel you need to travel first, which particular light is the most important to you.
If you've never taken time to imagine your light, the things that drive you to work hard and make the most of life, do that today. Envision that light, that desired thing that sends its rays all the way toward you at the other end of the tunnel. Get a clear picture in your mind of what you want. And then, get ready to step into the tunnel and start moving toward it.
Don't miss tomorrow's show, where we'll look at the light at the end of the tunnel for young people. How can we help them find their light, at school and at work? Tune in and we'll see you tomorrow!
---
---
---