115 - Cyber Hygiene That Sticks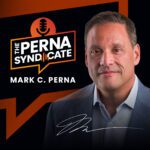 Episode: 115
Episode Title: Cyber Hygiene That Sticks
Good cyber hygiene is crucial nowadays—but how can you teach and train these habits so they stick? Find out from an expert, coming up next.
Ep 115 show:
Welcome to The Perna Syndicate, and happy Friday! This week, we've been talking about cyber hygiene and its critical role in our new remote workforce. Cyber hygiene refers to best practices to stay safe online and safeguard sensitive company data. And it's been a huge challenge since everyone started working from home last March. 
I recently connected with Matthew Gardiner, the Principal Security Strategist at Mimecast, for some advice for employers trying to secure their data. 
He says that outdated, "check-the-box" security training programs just don't work. Most employees like consuming Instagram and YouTube content, and don't enjoy boring, hour-long security training videos. I can't say I blame them! 
Cyber hygiene training that sticks is both brief and frequent. According to Gardiner, it's better to have five minutes of security training once a month then 60 minutes of training once a year, he says. Short, entertaining, informative and well-produced content is what gets people's attention and engagement.
Turning the training into a story can help employees remember the concepts and even enjoy the training. Real-life scenarios, acted out with humor, are a great way to catch and keep people's attention, while teaching them something they will remember and apply when the time comes.
However you train your people on cyber hygiene, remember that they're simultaneously your weakest link—and your greatest security asset. Training initiatives that put people first are the way of the future in our new remote workplace.
Thanks for listening to the Syndicate this week! As always, check out my latest at Forbes.com for more on America's evolving workforce. We'll see you next week!
---
---
---