105 - Happy New Year 2021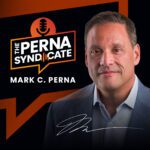 Episode: 105
Episode Title: Happy New Year 2021
Happy New Year! It's finally 2021. How can we make a bigger difference this year? It all starts with the knowledge and experience we gained last year. Find out more on The Perna Syndicate, coming up next.  
Ep 105 show:
Congratulations—you made it to 2021! Let's all take a deep breath before we jump into the New Year. Whew!
As I said earlier this week, 2021 can be a fresh start, but we have to be realistic about where we're starting from. The challenges of 2020 are still with us—but with one key difference. This time, we're facing them with some hard-earned experience under our belt. 
Think how much better equipped you are today than you were at this time last year. You've overcome tremendous obstacles and have come out stronger. You've adapted, you've grown, and you've made a difference. Don't lose that momentum now!
This year, we all have the chance to leave our mistakes of 2020 behind and become the best versions of ourselves that we can be. That's what I'll be doing. Did you fail at something last year? Never mind that now; keep pursuing excellence. The only way to grow is to face adversity and keep on facing it. That's how you become better. 
Last year's challenges are still with us, but so are the powerful lessons and tools we've gained along the way. Put yours to good use this year—and keep making a bigger difference, right where you are. 
If The Perna Syndicate has inspired you this week, let me know with a review! On Amazon, just search "The perna syndicate" and leave a customer review, just like you would for anything else on Amazon. And as always, thanks for being part of the Syndicate!
---
---
---