816-Workplace Jargon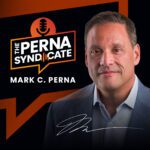 Episode: 816
Episode Title: Workplace Jargon 
According to new research, jargon at work can have a negative impact on company culture—and your career. Let's talk about it, next on The Perna Syndicate.
Ep 816 show:
Welcome back to a new week on The Perna Syndicate—I'm Mark Perna and I'm glad you're here! Workplace jargon—defined as "terms that are non-transparent, require explanation and are specific to the corporate world"—is the subject of a new study co-sponsored by LinkedIn and Duolingo. 
This research uncovered the most common jargon used in U.S. workplaces, the terms that people find most confusing, and which phrases are the most cringeworthy.
The survey also showed that 58% of workers feel jargon is overused in their workplace. Almost half wish jargon would go away altogether. That is a significant number of people! 
At the same time, many of these same respondents admit they use jargon themselves. So it seems we only dislike that jargon when it's something we ourselves don't understand. 
To better understand the concept of workplace jargon and its effects on company culture, I talked to LinkedIn and Duolingo about the survey results. I wanted to know: Why do we use jargon? How is jargon created? Why can jargon be so confusing? And, do we have to ditch jargon completely to create an inclusive workplace? 
We will cover all of those questions and more this week on The Perna Syndicate. Thank you as always for tuning in today. We'll see you back here tomorrow for a working definition of jargon and why we all use it. Until then, take care! 
---
---
---