77 - How an F1 Student Visa Holder Achieved Her Dream, Pt. 2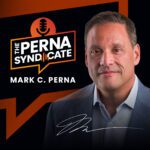 Episode: 77
Episode Title: How an F1 Student Visa Holder Achieved Her Dream, Pt. 2
No one enjoys uncertainty, but there's little doubt it can be a powerful motivator. In Melody's case, it drove her to achieve beyond all expectations. Stay tuned for part 2 of how she did it.
Ep 77 show:
Hello and welcome to the Perna Syndicate! Yesterday, I told the first part of Melody Yang's story: how she came to the U.S. on an F1 student visa to study business, how she enrolled in a grueling coding program while still a full-time college student—and how she struggled with an uncertain future. Today I want to tell you the rest of the story, and where Melody is today.
Melody was nearing the completion of both her degree and her computer science program when her first full-time job offer was rescinded. The new grad recruiting season was over, and she had nothing to show for it. Then, the coronavirus threw everyone for a loop—making the future even more uncertain.
In the midst of these obstacles, Melody's job-hunt got even more intense. The stress was real, but Melody coped with it by creating a backup plan for employment in her native Taiwan. Plan B wasn't her first choice, but she could still move forward if it happened.
As it turns out, Melody didn't have to use her backup plan. Today she works as a software engineer at Apple, where she continues to grow as a professional. She loves what she does, the people she works with, and the impact she makes.
Uncertainty marked her path from day one, but she didn't just rise above it. She used it to drive her success. With everything changing so rapidly in our world today, Melody and her fellow Gen-Zers are discovering that there's no better time to harness the power of uncertainty—and succeed.
Thanks for being part of the Perna Syndicate today! Tomorrow, we'll apply the power of uncertainty to our own lives. See you then!
---
---
---