767-AI's New Wave of Change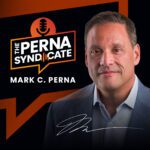 Episode: 767
Episode Title: AI's New Wave of Change 
A dynamic and shifting workplace is before us—we just need to be able to embrace it. Here's why we should, coming up next on The Perna Syndicate.
Ep 767 show:
Welcome to The Perna Syndicate—thanks for tuning in! If history is any guide, we may be on the cusp of something truly remarkable in our lives, in our jobs, and in our society. The advent of AI, used in our everyday business and personal lives, will soon create remarkable new opportunities. 
Where we are today with AI is similar to how the Internet stood in its early stages back in the 1990s. In 1993 there were only 130 websites. Within 36 months there were over 100,000.
While we know that many of those dotcoms didn't pan out, they helped open up countless new job opportunities for people who embraced learning new skill sets. This new workforce created job titles such as web developers, UX interface designers, and Internet marketers, to name a few.
It is entirely possible, in our lifetime, that the widespread adoption of AI will bring about similar shifts in the kinds of jobs available for the workforce of the future.
A decade from now, or sooner, there will be brand-new roles for people entering the workforce. While the headlines seem to be fearful of the world being controlled by robots, the reality is that this could improve people's lives, much the same way that other massive shifts have lifted up our quality of life. 
When it comes to young workers thinking through their careers, seize the day! Step back, explore, then dive in. You are perfectly poised to ride the wave of change to a better future.
That's it for The Perna Syndicate today! Tomorrow: As the world continues to change, do traditional job requirements need a face-lift? I'll see you then!
---
---
---