686-The Leadership Shortage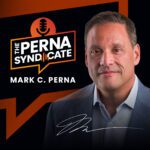 Episode: 686
Episode Title: The Leadership Shortage
Only 12% of companies have the leaders they need to compete in a fast-changing world. So, where are all the leaders? Let's talk about it, next on The Perna Syndicate.
Ep 686 show:
Welcome to a new week on The Perna Syndicate! I'm your host, Mark Perna. Talent shortages have been in the news a lot lately as we grapple with a historically tight labor market. But one shortage we haven't heard as much about is the leadership shortage.
According to the recent Global Leadership Forecast conducted by DDI, only 12% of companies say they have the leaders they need to fill critical roles. As a result, existing leaders are getting burned out faster, with almost three-quarters saying they feel used up at the end of the day. 
This, of course, only leads to more turnover and exacerbates the leadership shortage that so many organizations are facing. 
On the other hand, companies that have strong benches of leaders experience a very different reality. They're six times more likely to engage and retain top talent. They're five times more prepared to prevent employee burnout. And they're three times more likely to be among top financial-performing organizations in their industry, compared to their counterparts with weaker leadership. 
In these fast-changing times, the stakes are high. So how can organizations fill this shortage with strong, prepared, and effective leaders? 
The secret lies in tapping the immense leadership potential of the next generation. 
On the next episode of The Perna Syndicate, we'll look at why companies need to stop looking for leaders and instead, start creating them. Join me for that conversation next time. We'll see you then!
---
---
---