684-Purpose and Appreciation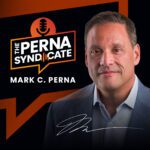 Episode: 684
Episode Title: Purpose and Appreciation
One thing employees will appreciate is the ability to make a positive difference in the world. Here's one way leaders can provide that, next on The Perna Syndicate.
Ep 684 show:
You're now in The Perna Syndicate—thanks for tuning in! All week we've been talking about what makes employees feel appreciated at work. And one big piece of that puzzle is purpose. 
Yes, we all want to be profitable. The paycheck for what we do is nice. But purpose is what gets us excited to do what we do. Purpose is especially vital to younger-gen employees, who deeply desire that their work would help make the world a better place. 
We've talked before about how giving employees the chance to support the charities they care about is a great way to keep them engaged. One way I do this annually is to designate company funds simply for charitable giving. There is no tracking or reporting on how my employees choose to use this money; it is completely discretionary.
They can pay for the groceries of the person behind them in the checkout line. They can give it to a neighbor who lost their job. They can donate it to a charity that is important to them. Whatever they choose to do, I simply ask them to do it in a way that is meaningful to them and their family. 
In today's world, there are so many needs that can be met if we just take the time to look around and see them. Empowering your employees to do this is a wonderful way to bring a world-bettering purpose to the work you do together—and make them feel appreciated in the process.
On tomorrow's show, there is one more strategy to help employees feel appreciated, and it's probably the easiest of all. We'll see you next time for that conversation on The Perna Syndicate. Until then, take care!
---
---
---