662-A Brief History of the Skills Gap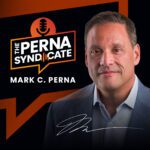 Episode: 662
Episode Title: A Brief History of the Skills Gap
The skills gap didn't happen overnight. Here's some of the history behind the labor shortages we see today, next on The Perna Syndicate.
Ep 662 show:
Welcome to The Perna Syndicate! As we examine the skills gap this week, it's helpful to look back to understand how we got here. It all started when the U.S. economy began booming after World War II. 
This boom happened because demographics were changing rapidly, with birth and immigration rates skyrocketing. At the same time, greater educational opportunities were becoming available for more people. 
The U.S. economy has since grown rapidly, especially over the past two decades, which created a considerable number of highly skilled jobs, specifically in the tech sector. The college degree has become more prevalent than ever. 
This all sounds great, but there's a catch. While the percentage of the U.S. population with advanced degrees has increased, not all these degrees now provide the skills that the market actually needs. There's a growing mismatch. 
Another major factor is the aging of the Boomer generation, who are retiring and leaving a multitude of highly skilled jobs that younger generations have not yet had the training to fill. By 2030, forecasts predict that all Boomers will have exited the job market—leaving some 85 million open jobs. The lost revenue could be as much as $8.5 trillion.
We need to write a new chapter in the history of the skills gap—where these numbers never materialize.  
Tomorrow on The Perna Syndicate, is there a future in which having a college degree will be a liability rather than an asset? Let's talk about that and more next time. See you then!
---
---
---