660- Becoming Talent Centric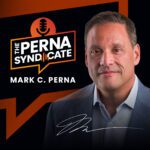 Episode: 660
Episode Title: Becoming Talent Centric
If your organization isn't fully talent-centric yet, here's the first step on that journey—coming up next on The Perna Syndicate.
Ep 660 show:
Thanks for tuning into The Perna Syndicate today! This week, we've been talking about talent-centric organizations, or TCOs, and why they're winning in a tight labor market.
If you can't honestly claim to be a TCO yet, how can you begin the process of transformation from the inside out? Leadership advisor Carol Schultz encourages all founders and CEOs to set up an all-hands-on-deck discovery conversation to ask the following questions:
How does our leadership team describe the company's vision and goals?
Is everyone on the same page?
What do team members feel should be done differently?
What does employee turnover look like in the company and each department?
What's causing employees to leave?
Why do our people think the company isn't achieving its goals?
Through this conversation, any gaps in alignment can be shared in an objective and nonjudgmental way. And then, of course, you have to act on the insights gained. Be open to the possibility of doing things in a different way than you've considered in the past. You'll find this process to be authentic, eye-opening, and valuable, says Schultz.
Finally, don't lose sight of the reason you want to become a TCO: it's the people. As Schultz says, valuing the human experience is what a TCO is all about.
That's all for this week on The Perna Syndicate. Thanks for making the show a part of your day. We'll see you back here next week for more insights and inspiration from The Perna Syndicate. Until then, take care!
---
---
---