620 - The Cost of Disconnecting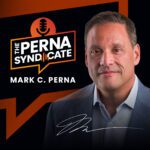 Episode: 620
Episode Title: The Cost of Disconnecting
Employers are turning to tech platforms to help their workforce forge better connections. Here's why that's only part of the solution, next on The Perna Syndicate.
Ep 620 show:
This is The Perna Syndicate—I'm glad you're here! Failing to forge a human connection with our coworkers can come at a high price. The current disconnect has contributed to a workforce that is fundamentally transactional—and therefore highly disengaged with the company vision. 
More than half of the employees surveyed admitted that all they care about at work is the paycheck—to the point where 62% said they would accept another position for a sign-on bonus of just $1,000. Yikes!
Fortunately, the C-suite is recognizing how critical the situation is. 88% say that improving culture and connection is one of their top priorities. Among those who don't offer a tech platform to support workplace connections, 83% have plans to do so. They believe a platform like this would improve people's day-to-day work experience and make them more likely to stay with the company.
Of course, while effective tech tools for connection are important in our dispersed workforce, they're hardly the whole game. Human connection is human. It's the people, not the platform, that make it happen—or not.
No matter whether the environment is in person or virtual, a true human connection stands or falls by how we answer the three vital questions: do you see me? Do you hear me? And, do I matter?
Thanks for listening to The Perna Syndicate this week! As always, feel free to get in touch with me at MarkCPerna.com with any comments or questions. I'm your host, Mark Perna, and we'll see you back here next week for more on The Perna Syndicate. Take care!
---
---
---