602 - The Big Commitment of College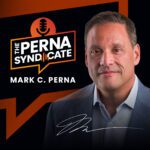 Episode: 602
Episode Title: The Big Commitment of College
What's the biggest obstacle to attending college? Yes, it's the money—but that's not the only factor. Here are some other big reasons, next on The Perna Syndicate.
Ep 602 show:
Hello and welcome to The Perna Syndicate! This week, we're unpacking a recent study released by the Gates Foundation, all about why people are choosing not to go to college.
As you might guess, the price tag associated with a college education is the biggest deterrent, with 38% indicating they didn't want to take on debt or that college was too expensive. Meanwhile, another 26% feel that getting a job and making money is a higher priority for them.
But alongside these financial reasons are others that are just as potent. More than a quarter cited the stress of college as a reason not to go. And another 1 in 4 didn't want to go because they were uncertain about choosing a major and future career.
Notably, the study did not uncover any significant differences in attitudes about college based on demographics such as race or sex. Rather, it pointed to "psychographics" such as satisfaction with one's current life situation, confidence, previous college experience, and other variables. These factors tend to have a bigger impact on person's likelihood to start or return to college.
No doubt about it, going to college is a huge commitment. And it seems that young people today are becoming more aware of its demands that are not just financial, but also emotional and mental.
Tomorrow: Just because many young people are bypassing college doesn't mean they're not interested in learning. Tune in tomorrow on The Perna Syndicate as we discuss "YouTube University" and why it's working for Gen Z. See you then!
---
---
---