566 - My Quiet-Quitting Team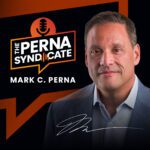 Episode: 566
Episode Title: My Quiet-Quitting Team
Long before it was a buzzword, my team was quiet-quitting. And you know what? It's the secret of our success. Here's why, next on The Perna Syndicate.
Ep 566 show:
Welcome to a new week on The Perna Syndicate! I'm your host, Mark Perna, and today I want to talk about the "quiet quitting" trend that has been all over the news lately.
As many people have already said, "quiet quitting" is a big misnomer. It refers not to people who hand in their resignation, but who competently do the work they're paid for and then step away to give time and energy to the rest of their life: family, hobbies, and other pursuits.
Now, a new term has entered the conversation: "quiet firing." This means setting employees up to fail by not giving them constructive feedback, advancement opportunities, stretch assignments, significant raises, or a voice in the direction of the company.
Personally, I don't think quiet quitting is the result of quiet firing. Quitting altogether is the result of quiet firing. Quiet quitting is what employees are free to do when a company proactively supports them in setting boundaries, beating burnout, and safeguarding their mental health.
Framed this way, quiet quitting is an extremely positive thing. It's really just another way to talk about healthy work-life balance. And my team has been doing it for years…ever since I've had a team, to be honest.
This week, I want to share my perspective on quiet quitting and why it's the secret of an organization's long-term retention and success. Tune in and we'll see you tomorrow on the next episode of The Perna Syndicate!
---
---
---