536 - What's Your Service Mindset?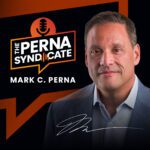 Episode: 536
Episode Title: What's Your Service Mindset?
Going the extra mile isn't just a nice thing to do. It's a top professional skill to advance your career. Here's why, next on The Perna Syndicate.
Ep 536 show:
Welcome to a new week on The Perna Syndicate! I'm your host, Mark Perna, and today I want to get back to our discussion about engineering a winning attitude through our professional skills. We've talked about adaptability, teachability, communication, and punctuality. Today, I want to cover the service mindset.
Often called "customer service," a service mindset is an attitude of truly wanting to help others. And it's not just toward customers; it's directed toward your coworkers as well. If someone asks you a question you don't know, are you willing to help them find that answer? Do you go that extra mile?
I know one young man who ended every conversation at work with, "Is there anything else I can do for you?" And then, he followed through. With that kind of service mindset, he was quickly promoted up the ranks.
To assess your service mindset, ask yourself: Do I care enough about the people around me to serve them, beyond the bare minimum of what I "have" to do?
People who go the extra mile go a lot further, a lot faster in their careers than those who have to be prodded into helping. Cultivating a service mindset serves not only the people around you, but also your own career.
Tomorrow: are you reactive or proactive at work? Being proactive is another valuable professional skill to add to your list and I'll share why on the next episode of The Perna Syndicate. See you then!
---
---
---